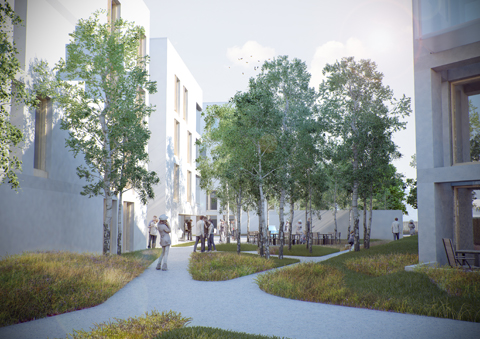 Image: © Mecanoo
Ubu has been appointed by Mecanoo to undertake the detailed Stage 4 designs on two schemes for housing group One Manchester.
The Hulme Living project will deliver 62 two-bed apartments on Leaf Road designed by OMI and 105 three-bed townhouses on Royce Road designed by Mecanoo.
The proposals focus on small, compact buildings that have been carefully positioned in existing green spaces. Together, the buildings form elegant clusters of housing that define the surrounding public and collective spaces, make new connections, and adapt themselves to the existing structures, streets and other open spaces.
The project is One Manchester's first new build scheme since the organisation formed in 2015 following the merger of Eastlands Homes and City South Manchester Housing Trust. All revenues earned from the new homes will be reinvested back into local development to help improve the lives and wellbeing of residents in One Manchester's communities.